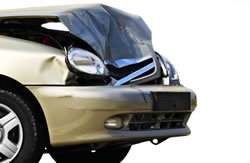 Immediately after a car accident, you may or may not have back pain. If you don't have pain, it may be because you have truly been spared any injuries or because your body produced high levels of endorphins that have masked pain. These endorphins are your body's way of helping you through a very stressful time. After the adrenaline and endorphins have worn off, you may start experiencing back pain, neck pain, or any number of signs that you have an auto injury.
When you do have back pain after a car accident, there are a number of different causes of the pain. Your St. Louis chiropractor, Dr. Holland, has been taught how to accurately diagnose numerous types of back pain. He knows the differences between disc herniation, facet syndrome, vertebral fracture, back sprain/strain, arthritis, and less common conditions such as spondylolysis and spondylolisthesis. Although arthritis, spondylolysis and spondylolisthesis may be pre-existing conditions before the onset of back pain after a car accident, these conditions can extend the amount of time it takes for back pain to be completely relieved.
Each of these conditions has different symptoms, different results on the orthopedic tests performed in the chiropractic office, and looks different on x-rays and other imaging studies. Each condition is also treated uniquely from a chiropractic perspective as well, although similar pain-free treatment modalities are often used.
When you schedule your appointment with your chiropractor for back pain after a car accident, it's important for Dr. Holland to accurately document the details of the accident as well as your health history and present symptoms. That's why it's essential for you to reserve as much time as it takes for the initial appointment to be completed, whether it's half an hour or an hour and a half.
Schedule an appointment today! Call our office at (314) 588-9100
Dr. Holland has treated hundreds of patients for back pain after a car accident and is an expert in diagnosing and treating auto injuries. Chiropractic is a drugless, natural method of health care that restores the nervous system's connection to the spine, which in turn connects to every muscle, organ and tissue in your body. Start restoring your body's connections– and relieving your back pain after a car accident – by giving Accident & Pain Relief of St. Louis a call today.