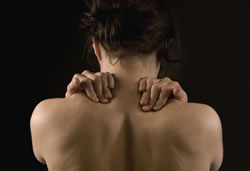 If you've been involved in an auto accident, there is a good probability that you have some neck pain, and maybe even whiplash, as a result. So, how can Dr. Holland, your trusted St. Louis chiropractor, help you if the upper part of your body has been stressed to the max?
Discovering the Reason behind Your Neck Pain
The first step is to determine what is causing your neck pain. For instance, if you were struck from behind, such as when you are rear-ended, it is possible that you have whiplash from the impact of the car accident causing your head to suddenly jut forward.
It may also be that the sudden movement in your head and neck area stretched your ligaments and/or tendons in that part of your body. The symptoms may not even appear right away, leaving you pain-free for the first couple of hours, if not a couple of days then easing their way into your body and wreaking havoc on your life.
Immediate Chiropractic Care Can Help
While you may be inclined to see if your whiplash or neck pain will go away on its own, you're better off getting medical attention as soon after the auto accident as you can. That way, any problems can be fixed and your symptoms can be properly alleviated, possibly without the use of pain medications or with costly, non-necessary surgery.
Don't let your neck pain worsen, making activities that were once easy to engage in (such as doing household chores or holding your children) almost impossible to do, let alone enjoy. Untreated issues can even lead to other problems, such as depression and anxiety, making them a priority to fix.
Dr. Holland of Accident & Pain Relief of St. Louis, MO is committed to helping you deal with your whiplash and neck pain from your auto injury so that you can return to "business as usual." Call your St. Louis chiropractor today and see what can be done for you!