What is Physical Therapy?
Physical therapy is a healthcare profession that seeks to reduce disability and pain associated with physical impairments caused by injury, surgery, and various medical conditions. The goal of physical therapy is first to relieve pain and swelling, and then to teach patients to practice preventive strategies for reducing their risk of future pain.
Physical therapists use non-invasive techniques such as exercise, spinal adjustments, massage, heat/ice therapy, ultrasound therapy, and more.
What Can Physical Therapy Treat?
Physical therapy is widely used for rehabilitation from surgery, injury, or other chronic conditions. Countless medical studies have shown that exercise rehabilitation in particular can prevent and ease a number of musculoskeletal issues. Our St. Louis chiropractors use physical therapy for treating musculoskeletal pain caused by:
Neck pain
Carpal tunnel syndrome
Osteoarthritis
Shoulder injuries
Torn or injured ligaments (ACL injury, plantar fasciitis, meniscus tear)
Multiple sclerosis
Tennis elbow
Auto injuries
Work injuries
Headache
Knee pain

Hip pain
How Can Physical Therapy & Chiropractic Help?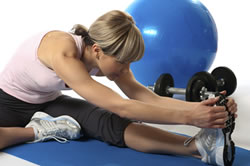 ​Traditionally physical therapists and chiropractors have practiced separately, however the two professions are beginning to bridge that gap, as more and more research shows that patients benefit from a combined treatment approach.
A growing body of research shows that patients with musculoskeletal conditions like back pain benefit the most from active treatments like spinal adjustments and exercise. While chiropractic adjustments stimulate blood flow to the affected area and relieve pressure on irritated nerves, physical therapy improves strength, flexibility, and endurance. These treatments work synergistically to reduce inflammation, pain, and disability. Over time this improves mobility and prevents future episodes of pain.
Despite the benefit of combining chiropractic with physical therapy, many chiropractors have not yet integrated physical therapy into their practices, and vice versa.
Our St. Louis chiropractors are unique in that they offer physical therapy, chiropractic, and acupuncture all under the same roof. We believe this maximizes our patients' chances of a successful recovery.
Whether you're recovering from auto injuries, work injuries, back pain, or another musculoskeletal issue, our St. Louis chiropractors can deliver a comprehensive treatment plan to get you back on the road to health. Call Accident & Pain Relief of St. Louis at (314) 588-9100 for an appointment today.